Chiropractic Care
Understanding Your Particular Needs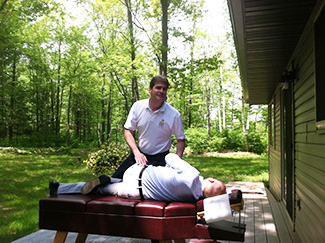 Your nervous system is responsible for the control and regulation of every single function in the body. If it's not working at 100%, you can't, either. Dr. Roth focuses on listening to your concerns, then performs an evaluation to discover whether there is a spinal problem that affects your nervous system.
These forms of interference are called subluxation. When corrected by the use of the chiropractic adjustment, your symptoms can be alleviated, and your health improved.
The benefits of chiropractic care you may experience include feeling better, improved attitude and sleep patterns, enhanced relationships and increased mobility. Many of our patients report a greater sense of well-being, different than how they felt before beginning care.
Quickly Addressing Your Discomfort
You may be wondering how it works with the frequency of visits and Dr. Roth's recommendations to you. If you're in acute pain, we'll recommend several visits grouped closely together to start making changes in your body. These appointments may be as much as 3-4 times a week initially. Then, we'll reduce to twice a week, then once a week. Around that time, Dr. Roth will perform a re-evaluation to measure your progress. The advanced technology of the Insight™ Subluxation Station gives objective findings to demonstrate your healing. All decisions will be based upon these measurements.
You'll be given options to continue care after your pain is gone that consider affordability with discounted fees or prepaid plans. If you choose wellness care, it usually involves visiting In Balance Chiropractic 1-2 times per month depending on your needs.
What If I Feel Nervous?
If you haven't been to a chiropractor before or have heard some of the common myths about chiropractic, you may feel unsure about what to expect. Dr. Roth's many years of experience have allowed him a breadth of expertise in chiropractic techniques such as Diversified, Activator®, Thompson Drop and specific pediatric methods. There is no pain involved, and you'll be walked through the adjustment before beginning so that there are no surprises.
If you have other questions, contact our Antigo office today! You can take advantage of our internet special offer – a complimentary examination on your first visit.

Chiropractic Care Antigo | (715) 623-5300